"No War on Iran! US out of Iraq!"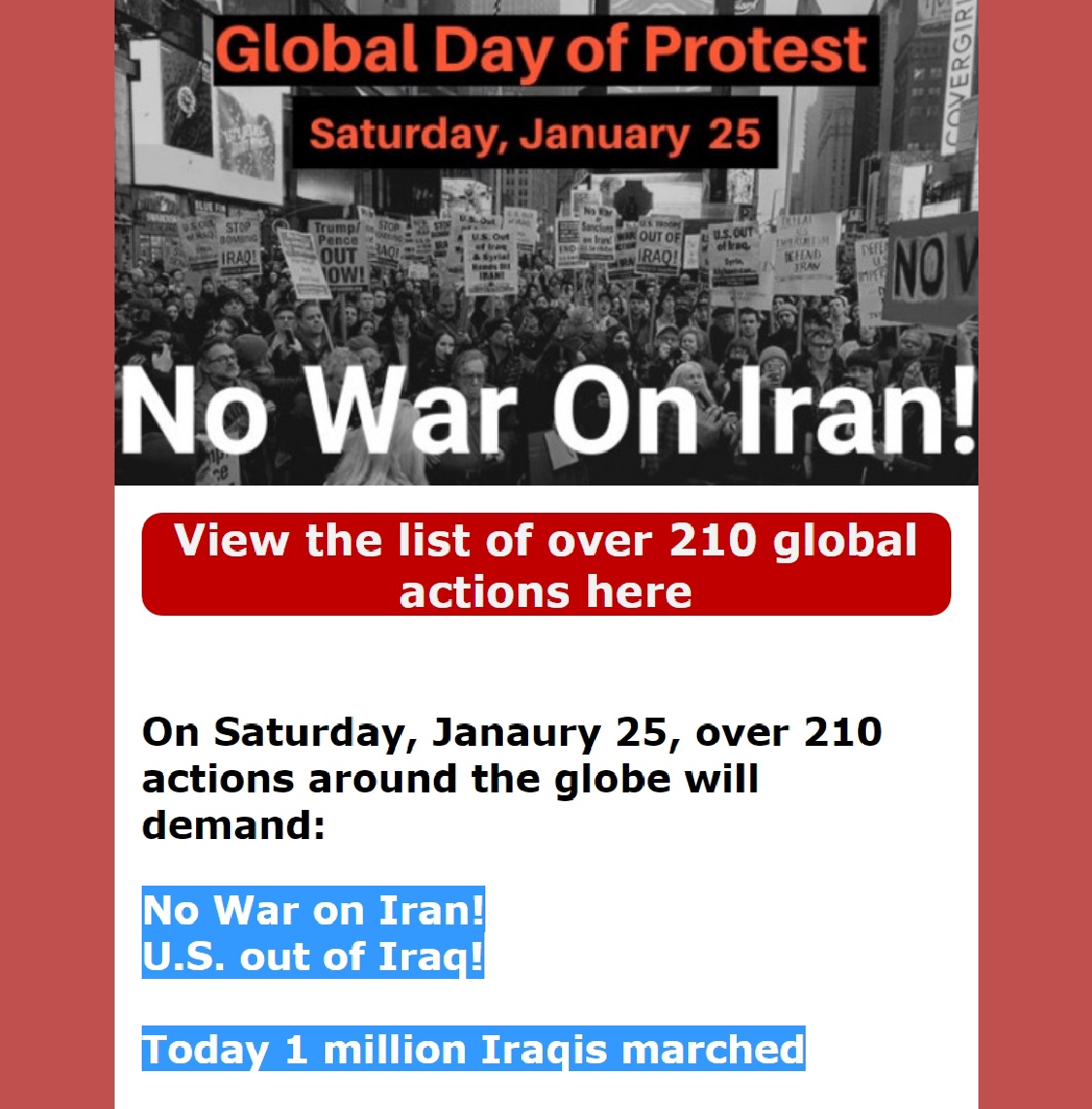 Unsere Medien berichten so gut wie nichts über diese weltweite Protestaktion. Mehr Informationen hier.
Global Day of Protest on Saturday, January 25. Actions around the globe. Yesterday 1 million Iraqis marched. Today, January 25 people around the globe will come into the streets to denounce U.S. aggression against Iran. The Global Day of Action follows mass protests of 1 million people today in Baghdad demanding U.S. troops out of Iraq. Now more than ever global solidarity is needed to prevent another war, and get the U.S. out of West Asia and North Africa. No war on Iran! U.S. out of Iraq!
View the list of over 210 global actions here
Initiators/Endorsers of this call include:
International Action Center, ANSWER Coalition, CODEPINK, Popular Resistance, Black Alliance for Peace, US Peace Council, National Iranian-American Council (NIAC), Veterans For Peace, US Labor Against the War (USLAW), Women's International League for Peace and Freedom (WILPF)
, United National Anti-War Coalition (UNAC), Pastors for Peace/Interreligious Foundation for Community Organization (IFCO), International Workers Solidarity Network, United For Peace and Justice, FIRE (Fight for Im/migrants and Refugees Everywhere), Alliance For Global Justice (AFGJ), December 12th Movement, World Beyond War, Peoples Opposition to War Imperialism and Racism (POWIR), Dorothy Day Catholic Worker, Dominican Sisters/ICAN, Nonviolence International, No War on Venezuela, Food Not Bombs, Jewish Voice for Peace, DSA Anti-Imperialism Network, NuclearBan.US, Roots Action, MADRE and many more
View the full list of endorsing organizations
View the list of over 210 global actions here
What's next after January 25?
In addition to the continued threat of air stirikes, drone warfare and invasion, the imposition of even harsher U.S. sanctions on Iran is another kind of war, and economic war that will claim the lives of thousands of Iranians.
It is crucial we continue raise counsciousness about sanctions within the anti-war movement, and among all working and oppressed people around the world.
That's why over 1000 organizations and individuals have come together to organize the:
International Days of Action Against Sanctions and Economic War
March 13 – 15, 2020
U.S. imposed sanctions target over 39 countries- 1/3 of the world. They are an act of imperialist war and genocide responsible for, among many other crimes the death of over 500,000 children in Iraq. Its time to build the movement to end U.S. imposed sanctions.
Can you organize in action March 13-15 in your city?
List your event for the International Days of Action against Sanctions and Economic War
Endorse the March 13-15 Call to Action
Join in the organizing against U.S. wars and sanctions, find resources for mobilizing, and learn more about the impact of U.S. imposed sanctions at sanctionskill.org.
Your support is crucial to sustain the anti-war, anti-imperialist, anti-racist work of the International Action Center. Help us continue to organize: